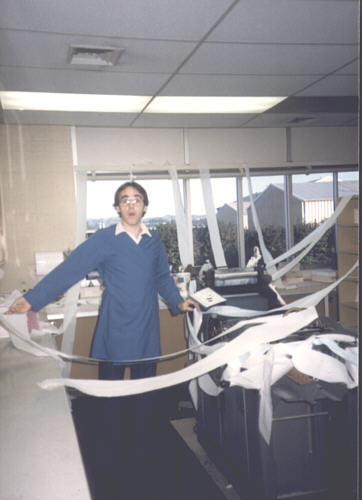 Art's last day at LUSD print shop
As previously mentioned, a workprint was assembled of the film and screened for Grant prior to his departure for Texas. I spent the next few months editing the original and magnetic soundtrack for the final answer print. Unlike the the filming portion that was done in small bits, having a print as large as this made would require a lot of money for the lab work.
The answer to this road block came when a job opening came up at the 1369th Audiovisual Squadron (formerly 1369th Photographic Squadron) at Vandenberg AFB. I interviewed and was accepted back in the place I thought I was finished with 9 years earlier. Since I had worked at the Lompoc School District for less than five years, my retirement account money that had accrued was returned to me. This sum was more than enough to have the print made of STAR TRIX. That windfall, came with a price of its own. During the inprocessing at Vandenberg, I was under the impression that I would start at the mid-level pay grade but after signing the paperwork I was told that I didn't qualify for that and I would be started two steps lower. I would be losing about $100 a month from what I was making at the school district. I tried to dispute it but was screwed by the bureaucracy.
I explained the situation to my former boss Frank Warner and he set me up with any part-time work they needed done at the print shop. Meanwhile, I got aquainted with my job at the 1369th. While our primary job was to set up high speed movie cameras for coverage of missile launches, we were gearing up for the mid-1986 west coast space shuttle launch from Vandenberg.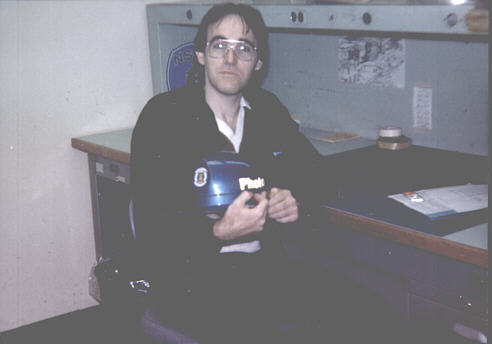 Art at the Remote Photography section.
During my short stay at the 1369th I was able to get the final print of STAR TRIX - THE FLICK made and the soundtrack recorded onto it. Appropriately enough, I had a screening of the film at the Squadron where it all began in 1973. The reaction was mild, partly due to the Super 8 projector's amplifier being unable to get loud enough for the room. The second reel's sluggish pace didn't help either. The Trek in-jokes were lost on many of the older people too. There were a number audio dropouts due to the magnetic sound stripe needing to be flattened down during a few runs through the projector before a good recording was done. Not exactly the triumph I would have liked.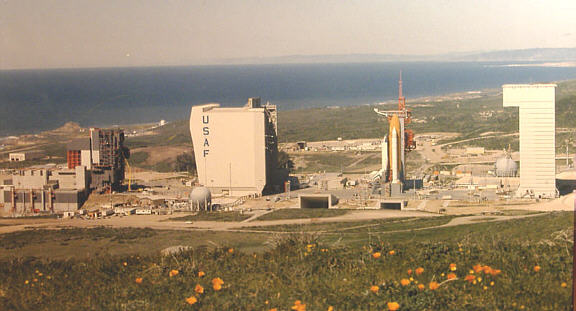 Space Launch Complex 6 with Shuttle Enterprise
The above photo of SLC-6 could actually be described as science fiction since the west coast space shuttle launch never happened. The morning of the Challenger disaster in January 1986, I was riding with the pad crew to this site for a tour of our camera locations. We stopped at SLC-4 on the way back to the 1369th AVS where supervisor Hector Arreolla went inside while the rest of us waited in the truck. Several minutes later, Hector came out at a full run and got inside. We wondered what the rush was and he told us that the shuttle blew up. Returning to our building, we discovered it was dead silent except for the sound of portable TVs reporting the news.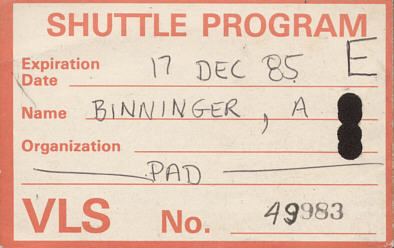 I can't find my badge from the day Challenger blew up.
The Challenger disaster threw the Vandenberg shuttle program into turmoil. There had been whispers even before I started working there that questioned the safety of the launch being so close to a populated area. Lompoc didn't seem to mind, as it busily constructed hotels and hiked rents for the imminent influx of tourists they expected to witness the shuttle launches. Our superiors at the squadron assured us that the problems would be ironed out before the first July launch but having been burned enough times before (especially over my paygrade), I started looking for another job.
Frank Warner came through again. Although my position at the school district had been filled, there was an opening at the Santa Barbara County Superintendent's office print shop. I interviewed and got the job starting in April of 1986. During the first six months on the job, I lived in Santa Barbara but got really tired of the narrow streets choked with traffic during rush hour, the high rents and the general attitude of the place. I moved back to Lompoc in September of 1986 and began my three-year commute to work.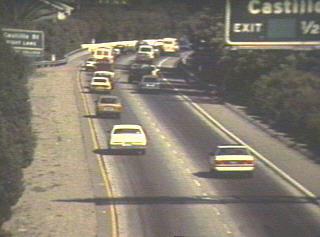 Traffic starting to bottleneck in Santa Barbara 1986.
While living in Santa Barbara, I supplemented my school district salary by doing evening work at Mission Country Photo lab in Goleta. They had a well established film-to-tape transfer service and I brought some of my Newsfilm Lab experience with me. One of the ongoing problems was films breaking during transfer. I explained that most customers were unaware that movie film requires periodic cleaning and lubrication to keep it flexible for projection. The other problem was that many customers didn't know how to make a proper splice between reels. We even found films held together with band-aids. Soon we were doing inspections of the incoming film for brittleness and bad splices. This practice cut way down on breaks in the projection during the transfer process.
It was here at Mission Counrty Photo that I had the initial VHS transfer made of all the STAR TRIX films. We used the camera-originals from the 1970's short films but had to use the 1986 print of STAR TRIX: THE FLICK since it contained optical effects that weren't on the camera original. I had filmed wrap-around material explaining how the films were made that Loren Lucason, the supervisor, helped me integrate onto the tape. Loren and I also made a short animated clip that customers could have inserted at the beginning of their holiday videos. It was less than a minute in length featuring a clay-animated Santa Claus. I don't know how many people chose this option but it was advertised on Mission Country's hand-outs with their photo-finishing services.
The flyer with my holiday film clip.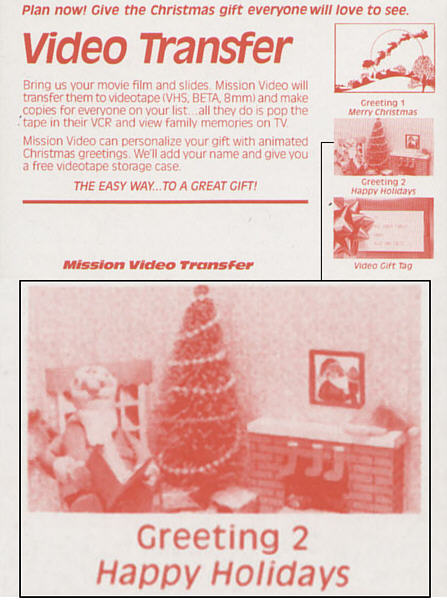 Closeup of the clay animation scene.
During my stay in Santa Barbara, I looked for ways to promote the new STAR TRIX film, preferably to an audience who "got it". I found a group of Santa Barbara science fiction fans who regularly met at the home of Mariellen and Sig Wathne. I set up an evening to screen the print (this was before I had the VHS copy made) and it went over very well. I showed a couple of my other films (both ADVENTURES OF CAPT. COORS) and some of the members started suggesting other venues to show STAR TRIX. Eventually, when the VHS version was made, I was able to make copies of it for group members who requested it.
I approached Bob Krause, head of the school district's audiovisual department about possibly showing it on public access cable. Bob was connected to Channel 19 in Santa Barbara and looked into scheduling the film. Since the length was longer than 30 minutes and shorter than an hour, it was decided to add a documentary segment explaining how it was made to fill out the hour time slot. In my "do it by the book" mentality, I decided to ask permission of Paramount before having the cable showing. Bad idea!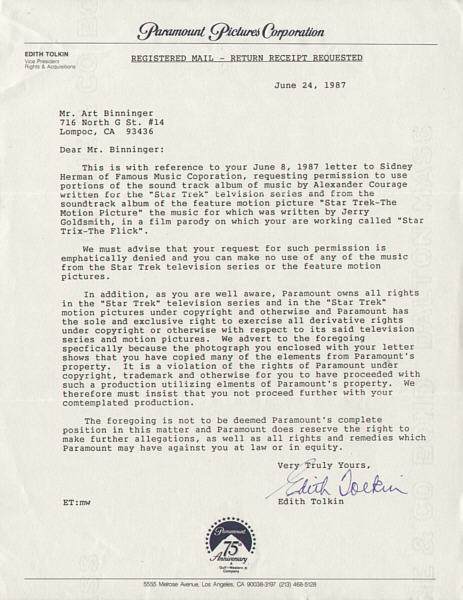 A letter from Paramount, not as nice as in the 1970's.
To back up a bit, although STAR TREK: THE MOTION PICTURE was a box office success, Paramount was not happy with the cost overruns (many of which occurred as a result of it's constantly mutating status from a TV show to film to TV-movie to TV series to big budget feature) on it. They decided that Gene Roddenberry had to go and replaced him with producer Harve Bennett. To avoid fan backlash from their removing Roddenberry, he was given "Executive Consultant" credit on the subsequent features. Harve Bennett's management style wasn't as fan-friendly as Roddenberry's so when I wrote to him with photos of the new STAR TRIX film, he passed them on to the Paramount legal eagles. The studio rep responded with a virulence hardly befitting this obviously amateur production. I wrote back with a sarcastic but tempered reply that I was flattered that my clay and cardboard project could be considered such a threat to Paramount's financial well-being. The studio followed up with an even more threatening letter signed by five lawyers. I dug out Jon Povill's friendly letters from 1978 and sent along copies, commenting that without fan support Paramount wouldn't have a Star Trek series to keep them employed. Apparently, the Povill letters gave the aggrieved legal staff some pause because I never heard from them again.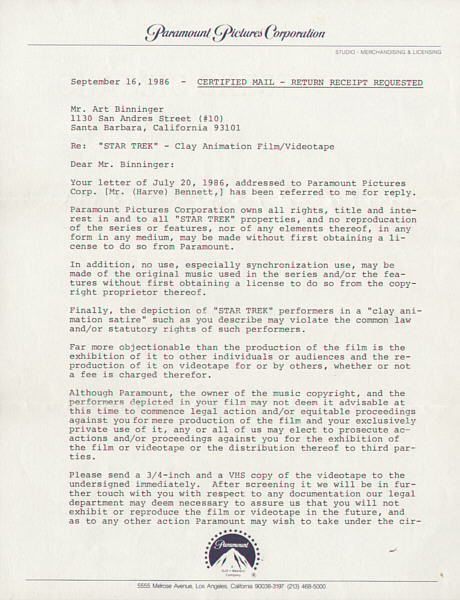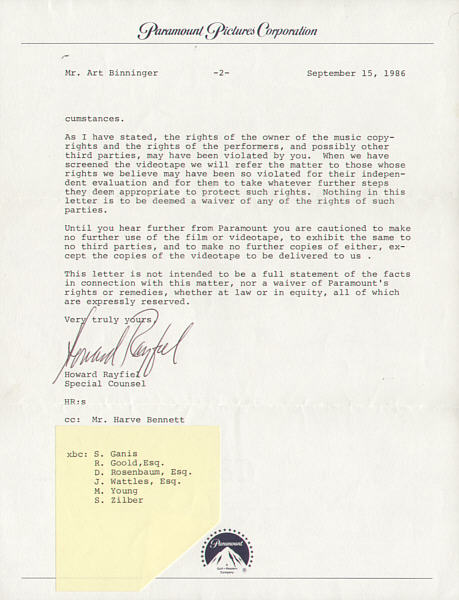 Paramount's second Nastygram.
When enough time went by and I still received no response from Paramount, I decided to chance a showing on public access TV. However, I asked a musician friend, Frank Batts, if he could compose some kind of alternate score that I could plug into the video. He came up with enough music on his synthesizer to fill the gaps (even an alternate theme song that wasn't bad at all) and I had Dale McKenna set up yet another mix of the tracks.
The public access station in Santa Barbara needed to have about an hour of material to use. They scheduled their programming in 30 minute segments and STAR TRIX: THE FLICK came in around 43 minutes. Grant Hiestand and I took a weekend to put together an interview video detailing what went into the film. This was whittled down to about 16 minutes and had stills and live demonstrations inserted. The tape was broadcast about four times in the Santa Barbara area and I was even recognized by the guy at the local tire shop there. Fame at last!